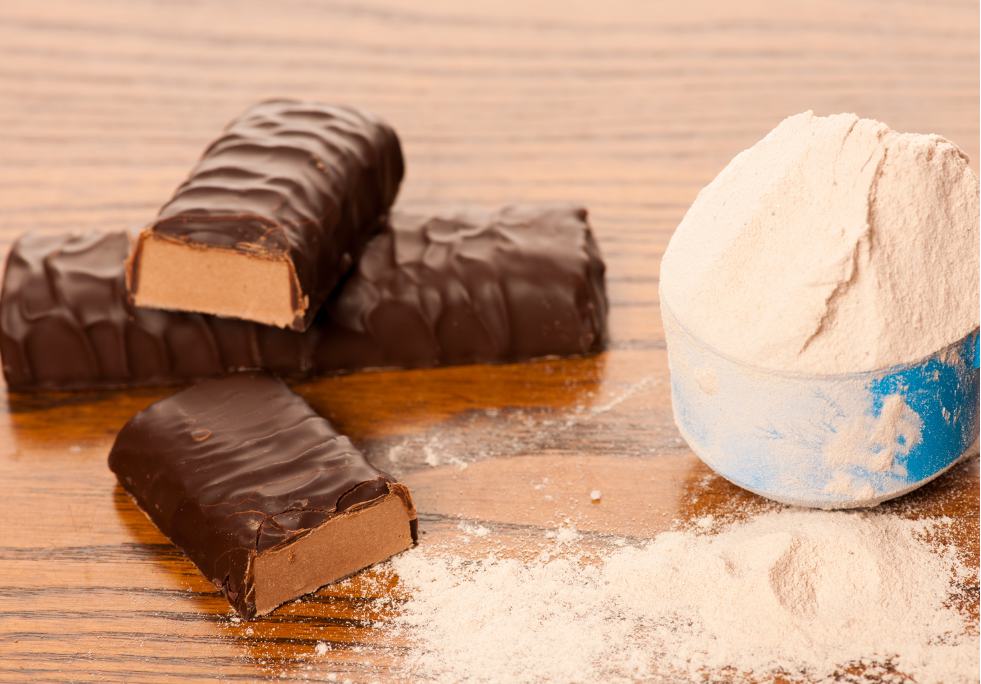 06 Aug

Snickers Protein Bar
Nougat Layer
Date Caramel Layer
1/2 cup raw peanuts
1 1/2 cup dates (soaked in hot water for 5 minutes to soften, then drained)
3 tablespoons natural peanut butter
1 tablespoon Nutri-Nut Powder
Chocolate Coating
1 1/2 cups dark chocolate chips
2 tablespoons coconut oil
Method
Line an 8'×8″ or 9″x7″ baking dish with parchment paper.
To a large mixing bowl add the almond flour, maple syrup, protein powder and almond milk and mix together mix until a crumbly and sticky texture is achieved.
Transfer the mixture to the baking dish and press evenly to create the base layer, then place in the freezer for 20 minutes or until solid.
While the nougat is chilling, you can start preparing the caramel layer.
In a food processor, blend together the soaked and drained dates with the peanut butter and Nutri-Nut powder until creamy and smooth, stopping every so often to scrape the sides with a spatula.
Next add in the raw peanuts and fold together.
Once the nougat layer is solid, remove from the freezer and evenly spread the date caramel sauce over the nougat layer.
Place the pan back into the freezer to chill for 1 hour.
After 1 hour, melt the chocolate together with the coconut oil.
Remove the pan from the freezer and slice the caramel nougat into 12 equal bars.
Next, line a baking sheet with parchment paper and use 2 forks to carefully take one bar and dip it into the chocolate, flipping it over until fully coated.
Remove the coated bar carefully and place onto the parchment paper.
Repeat the process for the remaining bars.
Place the baking sheet in the fridge or freezer to set for 12-15 minutes until the chocolate coating is completely hardened.
Enjoy!
Source:
https://nutritioninthekitch.com/healthy-snickers-protein-bar/