From $104.47 USD
Vegan Way 798g
VEGAN WAY contains a special combination of USA-sourced Non-GMO Yellow Pea Protein, and Non-GMO Brown Rice Protein. It is high in protein content, containing 23-25 grams per serving. It is also low in calories (140 calories) and high in fiber (4 grams). VEGAN WAY has no added sugar, contains no sugar alcohols, sucralose, aspartame, acesulfame potassium (Ace-K), Xylitol, or erythritol, and is sweetened only with organic stevia extract. VEGAN WAY is Flavored using all natural flavour components and is dairy, soy, and wheat free! Best of all, VEGAN WAY tastes wonderful on its own. Just add VEGAN WAY to a glass of water (12-14 oz of water) and stir gently with a spoon to make a smooth and delicious low calorie protein shake.
Muscle Amino
MUSCLE AMINO was formulated to help enhance recovery from intense training sessions as well as provide the critical building blocks for muscle tissue. MUSCLE AMINO contains all 9 essential amino acids (including the BCAAs) plus a generous amount of the conditionally essential workhorse L-Glutamine. MUSCLE AMINO is vegan-friendly (all the amino acids are from a vegan source) and Sugar free!
L-Carnitine Liquid
L-CARNITINE LIQUID is a 100% pure L-carnitine Tartrate which is the most bioavailable form of L-Carnitine. It comes in a delicious blue raspberry flavor and can be taken on its own or mixed into your favorite sports drink. L-CARNITINE LIQUID slows down the negative effects associated with the aging of mitochondria and protects the mitochondria from disease, therefore significantly increasing the ability to burn fat, regulate insulin sensitivity, support heightened alertness, and even improve cardiovascular health.
Stack bonus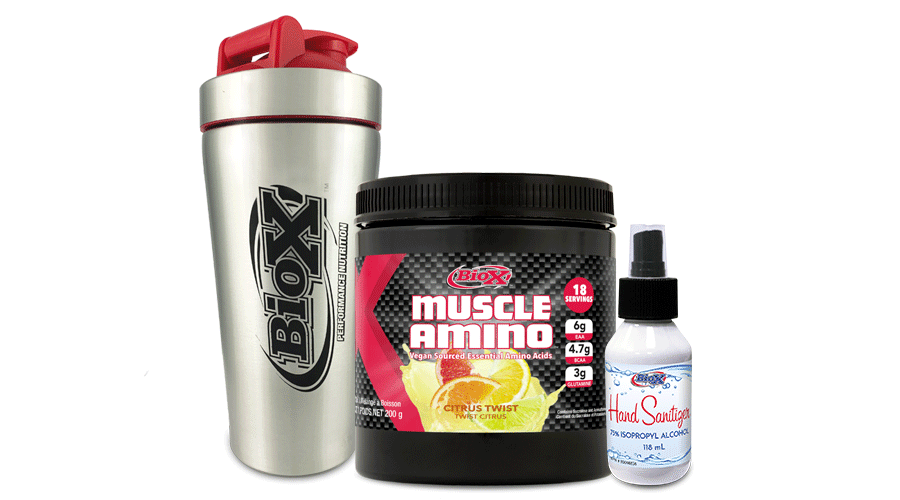 1 × Muscle Amino 18 Servings
VEGAN STACK:
• Supports Lean Muscle Mass
• Speed Recovery From Intense Exercise
• 100% Vegan
INCLUDED IN STACK:
VEGAN WAY 798g (21 servings)
MUSCLE AMINO 550g (50 servings)
L-CARNITINE LIQUID 473ml (31.5 servings)
FREE BONUS:
STAINLESS STEEL SHAKER 740ml
HAND SANITIZER
MUSCLE AMINO 200g (18 servings)