From $101.17 USD
Power Pump Powder
POWER PUMP is an explosive pre-workout performance enhancer and intensity amplifier! POWER PUMP incorporates a synergistic combination of key ingredients in maximal dosages that will elevate your training to the next level and beyond! A pre-workout supplement designed for the athlete that wants skin-splitting pumps, muscular endurance, and razor-sharp focus. We have compiled some of the highest quality and research driven ingredients to produce a product we can confidently endorse as an all-in-one pre-workout powerhouse.
Muscle Amino Powder 550g
Muscle Amino was formulated to help enhance recovery from intense training sessions as well as provide the critical building blocks for muscle tissue. Muscle Amino contains all 9 essential amino acids (including the BCAAs) plus a generous amount of the conditionally essential workhorse L-Glutamine. Muscle Amino Powder is vegan friendly (all the amino acids are from a vegan source) and Sugar free!
Creatine Rush 250g
CREATINE RUSH is a 100% pure creatine monohydrate of the highest quality. It is unflavored and mixes instantly into your favorite pre, intra, and/or post-workout recovery drinks. CREATINE RUSH is a perfect addition to your supplement regimen if you want to have fuller muscles, increase strength, and improve overall recovery rates.
Stack bonus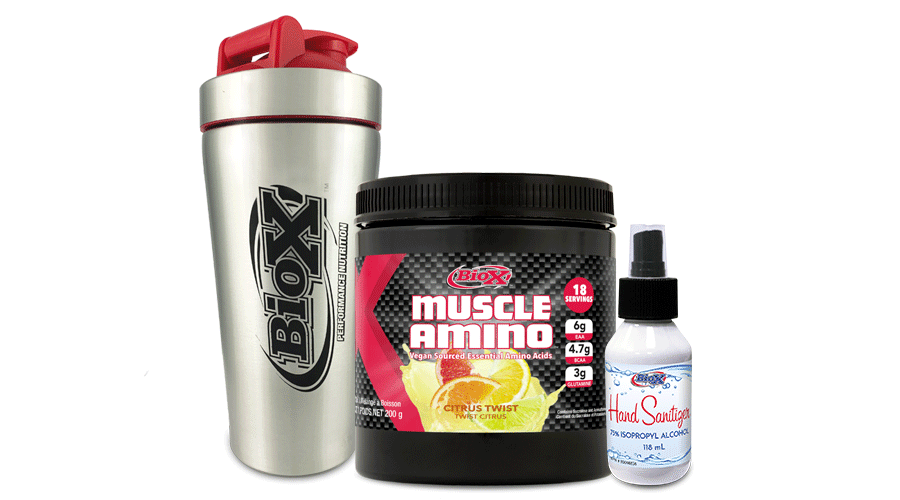 1 × Muscle Amino 18 Servings
• Improves Muscular Endurance
• Decreases Recovery Time
• Supports Improved Exercise Capacity
• Boosts Protein Synthesis
• Increases Vascularity
INCLUDED IN STACK:
POWER PUMP 500g (40 servings)
MUSCLE AMINO POWDER 550g (50 servings)
CREATINE RUSH 250g (50 servings)
FREE BONUS:
STAINLESS STEEL SHAKER 740ml
HAND SANITIZER
MUSCLE AMINO 200g (18 servings)