From $118.77 USD
Power Whey Complex - 908 g
POWER WHEY COMPLEX is a protein designed to meet the needs of the most rigorous exercise regimen while keeping in mind even the toughest of flavor critics by providing 11+ mouth-watering flavors that will leave you looking forward to your next shake. When it comes to post-workout recovery, or just simply adding a high quality protein source to your daily routine, POWER WHEY COMPLEX is sure to deliver the nutrition and satisfaction you desire.
Power Pump Powder
POWER PUMP is an explosive pre-workout performance enhancer and intensity amplifier! POWER PUMP incorporates a synergistic combination of key ingredients in maximal dosages that will elevate your training to the next level and beyond! A pre-workout supplement designed for the athlete that wants skin-splitting pumps, muscular endurance, and razor-sharp focus. We have compiled some of the highest quality and research-driven ingredients to produce a product we can confidently endorse as an all-in-one pre-workout powerhouse.
Muscle Amino
MUSCLE AMINO was formulated to help enhance recovery from intense training sessions as well as provide the critical building blocks for muscle tissue. MUSCLE AMINO contains all 9 essential amino acids (including the BCAAs) plus a generous amount of the conditionally essential workhorse L-Glutamine. MUSCLE AMINO is vegan-friendly (all the amino acids are from a vegan source) and Sugar free!
Stack bonus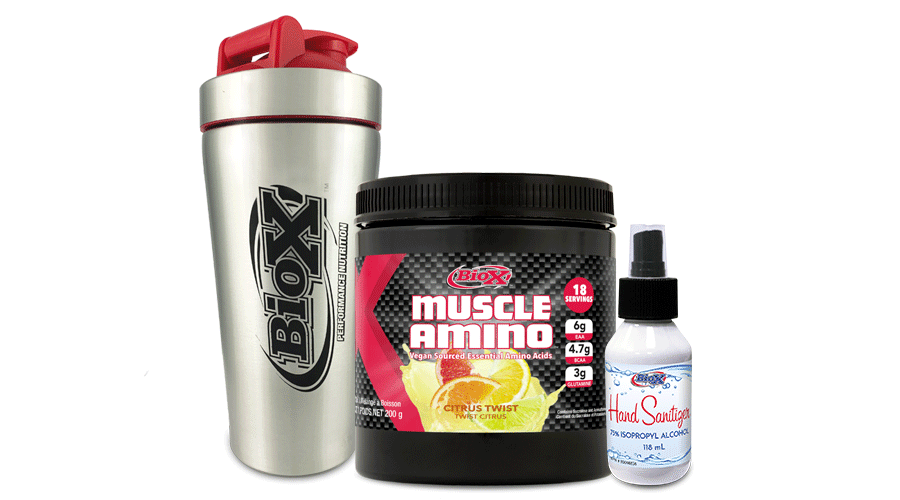 1 × Muscle Amino 18 Servings
LEAN MUSCLE STACK:
• Supports Lean Muscle Mass
• Speeds Recovery From Intense Exercise
• Boosts Metabolism
• Increases Mental And Physical Energy Levels
INCLUDED IN STACK: 
POWER WHEY COMPLEX 908g (26 servings)
POWER PUMP 500g (40 servings)
MUSCLE AMINO 550g (50 servings)
FREE BONUS:
STAINLESS STEEL SHAKER 740ml
HAND SANITIZER
MUSCLE AMINO 200g (18 servings)