From $134.16 USD
Power Whey Isolate - 908 g
POWER WHEY ISOLATE is triple-filtered at low temperatures to preserve the amino acid profile. This process ensures the highest bioavailability possible, ensuring each of the 29-31 gram servings of protein are fully absorbed by the body. To top it off, POWER WHEY ISOLATE is virtually lactose free.
Muscle Amino Powder 550g
Muscle Amino was formulated to help enhance recovery from intense training sessions as well as provide the critical building blocks for muscle tissue. Muscle Amino contains all 9 essential amino acids (including the BCAAs) plus a generous amount of the conditionally essential workhorse L-Glutamine. Muscle Amino Powder is vegan friendly (all the amino acids are from a vegan source) and Sugar free!
L-Carnitine Liquid
L-CARNITINE LIQUID is a 100% pure L-carnitine Tartrate which is the most bioavailable form of L-Carnitine. It comes in a delicious blue raspberry flavor and can be taken on its own or mixed into your favorite sports drink. L-CARNITINE LIQUID slows down the negative effects associated with the aging of mitochondria and protects the mitochondria from disease, therefore significantly increasing the ability to burn fat, regulate insulin sensitivity, support heightened alertness, and even improve cardiovascular health.
Power Pump Powder
POWER PUMP is an explosive pre-workout performance enhancer and intensity amplifier! POWER PUMP incorporates a synergistic combination of key ingredients in maximal dosages that will elevate your training to the next level and beyond! A pre-workout supplement designed for the athlete that wants skin-splitting pumps, muscular endurance, and razor-sharp focus. We have compiled some of the highest quality and research driven ingredients to produce a product we can confidently endorse as an all-in-one pre-workout powerhouse.
Stack bonus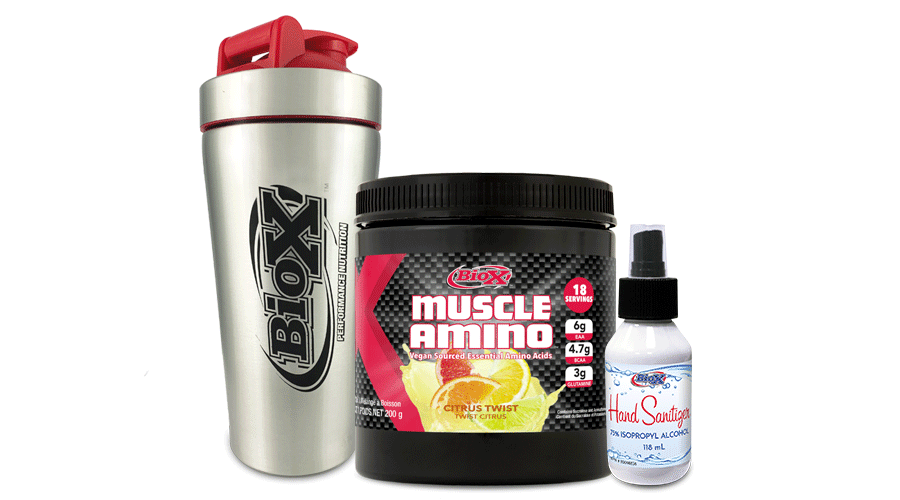 1 × Muscle Amino 18 Servings
FAT LOSS STACK:
• Burns Fat And Speeds Metabolism
• Improves Strength And Power
• Speeds Muscle Recovery
• Increases Mental And Physical Energy Levels
INCLUDED IN STACK:
POWER WHEY ISOLATE 908g (26 servings)
MUSCLE AMINO POWDER 550g (50 servings)
L-CARNITINE LIQUID 473ml (31.5 servings)
POWER PUMP 500g (40 servings)
FREE BONUS:
STAINLESS STEEL SHAKER 740ml
HAND SANITIZER
MUSCLE AMINO 200g (18 servings)